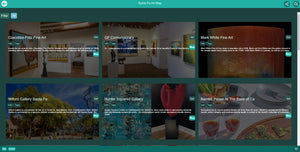 1 Hour Coaching
Need to build a filterable directory or map of locations? Save time for everyone by simplifying navigation, and offering shareable educational. 
Unique features make it easy for real-time collaboration and demonstrations by offering modes to sync interactions between viewers. Interested in digital kiosks? Save thousands of dollars turning your average TV into an interactive kiosk displaying your digital directory, allowing users to interact using their mobile phone.
Users can filter, share and share filtered lists, with quick reference to location directions. Software can be viewed in a Map or Directory view. We can help with small and large data sets to make directories of all sizes.
What You Will Learn
-Upload your locations, add images and filtering tags
-Easily add and edit popups online.
-Access your collection of locations for quick edits
Design Customizable: Need to customize the design of the directory? We can help! 
For Custom Digital Displays: Do you manage events, or work with custom digital displays? We can also help extend the functionality of your filterable directory to interactive in real-time with a second screen or projector.
Basic Example: Click Here...
Sync Two Devices While Browsing Directory: Click Here...
Video Example (Sync Mobile to TV): Click Here...
Options:
Booking Calendar: https://calendly.com/symphonicsoul/60min