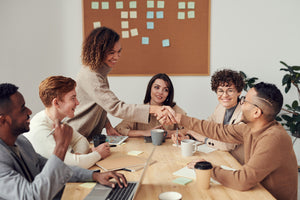 Connect with other businesses, professionals and organizations who would like to collaborate on an event, goal or marketing initiative!  

Features:
-Get Matched Using the B2B Matcher By Aligned Goals, Budget, Fanbase, Industry, Contribution and More!
-Save Favorites, Share Results and Items.
-Add Your Company and/or Opportunities to the B2B Matcher
-Be Promoted on Several Websites, Email Lists and Web Services Online That Promote The B2B Matcher
-Easily Edit Your Items Online
Example: https://learnchurn.com/signup-business/collab_general.php
Design Customizable: Need a customize B2B Matcher? Simply like the design and want to do something similar with a different theme? We can help! 
For Custom Digital Displays: Do you manage events, or work with custom digital displays? We can help extend the functionality of your filterable Matcher to be displayed on a large screen, while allowing users to use their mobile devices to control the Matcher just like a remote controller - through their browser. 
Options:
Booking Calendar: https://calendly.com/symphonicsoul/60min